Editor's Note: This is part of a series of profiles highlighting the diverse interests and careers of VSCPA members. Know a member (including yourself) who would make for an interesting profile? Email VSCPA Communications Specialist Chip Knighton.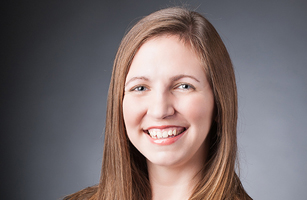 A person's career is determined largely by his or her skill set, but personality plays a big role, too. And when it comes to the audit profession, Lindsay Andrews, CPA, is a perfect fit on both counts.
Like scores of CPAs, Andrews, an audit supervisor at Fairfax firm Thompson, Greenspon & Co. (TGC), chose the audit track when she was a student at the University of Pittsburgh. In her case, a complicated decision ultimately came down to the best fit for her outgoing nature.
Audit "sounded more interesting to me," she said. "A lot more interaction with clients. I'm a pretty personable person, so feeling like I'd have interaction with other people on the team and clients was pretty appealing."
That decision led to a successful career start for Andrews, 29. And her hard work and winning personality paid off in an unusual way when she became pregnant with her first child, Zack, who was born at the beginning of this year.
"I had a lot of those long-term clients where we do the audit and then they do their tax returns," she said. "But they extended the tax returns, waited for me to come back to do the audit and filed on extension for the first time ever. It was a nice thing for them to do for me. I had clients calling in asking if it would mess up independence issues if they got me a baby gift."
Andrews has spent her career reaching out to people, including through the VSCPA, where she spreads her expertise as a volunteer for the Student Outreach and Ask a CPA Email programs and also serves on the editorial task force for Disclosures magazine.
Part of her motivation to give back to the accounting profession is the help she received from more experienced colleagues at the beginning of her career — even dating back to her college days.
"When I started working, especially, there were a lot of people at the firm who helped me to grow," she said. "In college, professors were very helpful, and our accounting classes were pretty small. We got a lot of one-on-one attention."
Andrews now serves as a mentor for young professionals at TGC, where she's worked her entire professional career. It's the memory of walking in the door as a fresh-faced college graduate that keeps inspiring her to help others.
"I don't feel that far removed, even though I'm getting there," she said. "It does still seem like yesterday that I was in school and coming up the ranks of staff and senior accountant. I can still relate a little bit. I have a lot of friends who were accounting majors that went down different paths, so I can help share those experiences as well."
She added: "Now I'm pretty involved with the interview process at our firm for new accountants. I look for someone who's going to be pretty personable. Coming out of school, a lot of people have the book smarts, but there are a lot of personable skills involved with the job."
That's an area where Andrews has got the necessary skills down pat.