Editor's Note: This is part of a series of profiles highlighting the diverse interests and careers of VSCPA members. Know a member (including yourself) who would make for an interesting profile? Email VSCPA Communications Specialist Chip Knighton.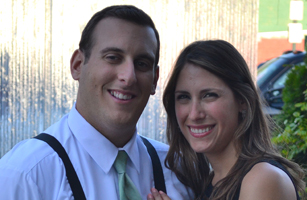 VSCPA member Brad Biondi, CPA, was initially attracted to the accounting profession because of the nearly limitless possibilities it offered. He's followed through on those possibilities during his young career.
Biondi, a senior auditor at Cotton & Company in Alexandria, began his career focused on fraud, earning the Certified Fraud Examiner (CFE) credential. He's added a new feather to his cap — and a new credential — at Cotton, where he provides accounting and consulting services to the federal government.
"I recently obtained my Certified Government Financial Manager (CGFM) designation to further enhance my development into the government arena," he said. "…. Although similarities exist between every engagement on which I participate, each brings with it new challenges. This allows me to develop my professional core competencies to provide quality service for my clients, and become a better-rounded professional in the process."
The ability to branch out and continue to develop as a professional was a major factor in Biondi becoming an accountant in the first place. He cited the ability to deal with many aspects of the business world as the biggest reason he entered the field.
"Accounting is involved in everything," he said, "whether it's strategic planning and budgeting, daily operations and decision-making, long-term/short-term goal implementation, or knowing how to properly file taxes on the large sums of money we all hope to someday acquire. Whatever my preference, as an accountant I can pick and choose any direction I want to go. There's enough flexibility and sustainability in the industry that I can feel confident that if I decide to go in a different direction within the accounting industry."
That flexibility played a role in getting Biondi to Virginia in the first place. He and his wife both attended Susquehanna University in central Pennsylvania, and her political science studies and internship with a Congressman led the couple to focus on the Washington area as a potential landing spot. Biondi knew his accounting background could take him anywhere, and he landed with Fairfax firm Thompson, Greenspon & Co.
Biondi joined the VSCPA in 2008 and didn't take long to get involved. He's served on the Young Professionals Networking Task Force for three years, and that involvement has helped him in his work with Cotton.
"Through my volunteering, I've had the opportunity to meet and develop relationships with other motivated accounting professionals in the VSCPA," he said. "These relationships have provided a platform for open discussions related to other accounting firms, trending industry topics and advice for better serving clients."
His volunteer work extends beyond his spot on the task force. He also serves on the Cotton & Company Giving Committee and volunteers annually with the March of Dimes' March for Babies walk in Washington.
A flexible, giving worker in an industry with endless possibilities, Biondi is ideally suited for his role at Cotton. But accounting isn't the only industry he considered.
"I could have seen myself as a teacher or college professor," he said. "I enjoy helping others and participating in thought-provoking discussions.  In that regard, it would have been fun to be a professor instructing students on various business management topics and leading class discussions on business ethics."