Editor's Note: This is part of a series of profiles highlighting the diverse interests and careers of VSCPA members. Know a member (including yourself) who would make for an interesting profile? Email VSCPA Communications Manager Chip Knighton.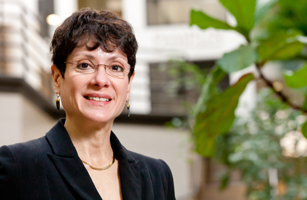 Tough, but fair. That's the reputation VSCPA member Cindy Easterwood, CPA, has among Virginia Tech accounting students. It's helped her build a career and a family that's now entwined at a place that she'd never seen before seeking employment there.
Easterwood is a professor of accounting at Virginia Tech's Pamplin College of Business. Her husband, John, is among her professional colleagues, working as a professor in Pamplin's finance department. And her younger daughter, Sara, is taking classes in the business school with an eye on joining the college officially next year.
So it's clear Virginia Tech and Blacksburg have proven to be a good fit for the Easterwood family, just as accounting proved to be a match for Cindy's detail-oriented nature.
"It's sort of like a puzzle, when you work a problem and you put it together and it fits. That really appeals to me," she said. "I always really liked math. My undergraduate degree was in finance, and then when I got into graduate school, I switched to accounting."
Virginia Tech was the missing piece of the puzzle for her family. She met John when they were both students at the University of Texas (UT) — she was an undergraduate and he was seeking his doctorate. She took his class, but they didn't start dating until well after that finished.
Easterwood stuck it out at UT, earning her bachelor's and master's degrees there before getting her Ph.D. at the University of Houston. When it came time to find employment, she and John chose Virginia Tech in 1992 — largely because Virginia Tech chose them.
"We needed two jobs," she said. "We sent out lots of letters. We were aiming at big cities where there were multiple schools or small towns where they were willing to hire both of us, and Tech was really nice and brought us both in."
Easterwood grew up in an Air Force family that moved constantly. They stayed in Texas long enough for Cindy to complete her studies there and move into her audit career, first with Ernst & Young in Houston, then with American General as an internal auditor.
With that history, it's surprising that Easterwood has stayed so long at Virginia Tech. But from all indications, these Texans have moved to Southwest Virginia for good.
"I love it here," Easterwood said. "I can't see myself ever going back to a big city. There's no traffic. It's easy. Everything is close by. It's relatively safe. It's actually been a really good place to raise a family."
It's also been a good place to build a career in academia and be a CPA. Easterwood let her license lapse after going back to school, but reactivated it in part to set a good example for her students.
"I think the students really think it's a big deal," she said. "Right now, I'm also the one who coordinates the Becker FastPass course, so I'm the one who talks to the students about taking the course after they graduate. I'm the one who gets the instructors to help with it. It's really important that they know I'm a CPA.
"If they have the CPA, they're more likely to get promoted. It opens up many more job opportunities for them. It's also important that we promote it here at school and in our classes."