Editor's Note: This is part of a series of profiles highlighting the diverse interests and careers of VSCPA members. Know a member (including yourself) who would make for an interesting profile? Email VSCPA Communications Manager Chip Knighton.
From ornithology to accounting to software development, Christine Stinson has what can fairly be called a diverse set of interests. But one of her most rewarding activities is volunteering with the VSCPA.
Stinson is the accounting program coordinator at Ferrum College in Franklin County and has served on the VSCPA's Educators' Symposium Task Force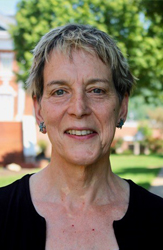 on and off for the past decade. This year, she served as program moderator for the event. She takes on that responsibility as a way of giving back to the profession and enhance her work in the classroom.
"It's important to model for my students what's going to be expected of them as accounting professionals after they graduate," she said. "If I can bring back to the classroom conversations that I have at the educators' conference, conversations that I have at other VSCPA conferences, conversations that I have with businesspeople or nonprofit leaders at the other boards I serve on, that adds another dimension to my teaching that goes beyond mere textbook knowledge. It puts into context for my students the professional world they'll be moving into."
To understand where Stinson is now in her career, it's instructive to look at where she's been. Her resume shows a clear love of lifelong learning, with two master's degrees and a doctorate in her initial focus, zoology, as well as accounting. She got her start in the profession when she and two friends started a small software company in the early 1980s.
That company, Solaster, focused on developing word-handling software for other companies. She quickly found that she was better suited for the business aspects of running a company than the nitty-gritty of programming, so she got her master's in business administration from the University of Washington (UW), focusing on finance and accounting.
That led her to her most prominent career crossroads brought about by none other than Apple co-founder Steve Jobs, fresh off the power struggle with Apple CEO John Sculley that led to Jobs temporarily leaving the company and founding a competitor, NeXT. He wanted to purchase Solaster, and Stinson's two coworkers agreed to the move. Stinson had other plans.
"Although I enjoyed doing business, I decided I liked teaching even more," she said. "So my two friends went down to work with Steve Jobs and I went back and got my Ph.D. I enjoyed the accounting side of business, but I really enjoyed teaching it more than doing it."
Despite not joining NeXT, she still found her way to Silicon Valley, getting her doctorate in accounting from Stanford University. That jump-started the academic career that led her to positions on multiple continents before she settled down in Southwest Virginia. She has precisely zero regrets regarding the decision.
"I recognize that yes, I would have been wealthier in a financial sense if I had followed that path," she said, "and I know they're very happy with what they do. But for me, personally, the joy and satisfaction I get from watching my students change while they're in my classes with me, having that kind of impact is a reward that can't be matched by money, as far as I'm concerned."
That reward, she says, comes from helping prepare her students for the professional world. And it also comes from her community involvement — in addition to her work on the Educators' Symposium, she serves on three community boards. She's active with Plenty!, a local food bank, Springhouse Community School, an alternative school in Floyd County, and the Virginia Society of Ornithology, where she serves as secretary of the board.
"I feel connected with the world I live in," she said. "I feel like I'm doing more than just taking from the world around me.
"I feel like I'm an active participant in the communities I live in. By giving back, I have a richer life than I would have had if I simply took and then went home."
Stinson's passion for making a different extends to her decision to work at Ferrum, a private liberal arts college with 1,500 students. She teaches introductory, intermediate, managerial and tax accounting and prides herself and her colleagues on giving students a more personal experience than they would get at a larger university.
"One reason I love teaching at a small liberal arts college like Ferrum is that we can make sure they get the textbook content they need, but that they can have a well-rounded background," she said. "They've been exposed to political issues, the arts, literature, environmental issues. It's a joy to teach these students, because while they are interested in accounting, I watch them graduate knowing they're going to lead very rich, full lives."
It's also a positive that she gets to live in her native state. Born to a U.S. Air Force family in San Antonio, she spent much of her childhood in Warrenton and got a master's degree from the College of William & Mary after graduating from Swarthmore College outside Philadelphia.
In addition to founding Solaster, she also spent her early career as a zoology professor of anatomy and physiology at UW. She made the career shift to accounting while she was still working there, but she still gets the chance to dabble in her initial focus area, teaching a class in vertebrate zoology every other year at Ferrum. She's also spent time at the University of Texas and at schools in Brazil and Thailand, and she attributes much of her late-career satisfaction to her willingness to seek out new experiences.
"I've been very lucky in my life. I've had many opportunities," she said. "I tell my students that it's important to be willing to change.
"If new opportunities arise that look like they'll give you a richer life, a life that will feed your soul and spirit, to be willing to take the risk to move in those directions. I've had many opportunities and I've been able to experience a lot. I'm very grateful for that."