The VSCPA partnered with Virginia Business magazine on the 2015 Economic Expectations Survey (PDF)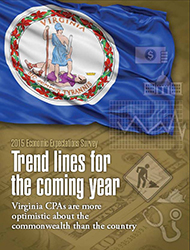 featuring the insights of Virginia CPAs on a range of issues including the economic recovery; outlook for the Virginia and national economies; the Affordable Care Act; the Virginia business climate; foreign investment; corporate taxation and access to business capital. Analysis of the survey results appears as the feature story in the November 2014 issue of Virginia Business and as part of a roundtable panel discussion moderated by the magazine featuring VSCPA members Charlie Equi, CPA, Greg Lawson, CPA, Ryan Losi, CPA, and Colette Wilson, CPA.
Virginia CPAs are split at 50 percent about whether the United States is in a sustainable economic recovery, with 34.21 percent believing that the recovery will take more than four more years, according to the results of the survey (PDF).
Respondents named "infrastructure" as the most pressing issue in Virginia. "Health care costs" followed closely behind. These results were the two most pressing issues identified in the 2014 survey as well. 54.75 percent of respondents believe that the employer mandate for the Affordable Care Act (ACA) will have a major effect on the economy with 74.07 percent believing the ACA is hurting the economy overall. 48.21 percent of respondents think that the ACA should be repealed while 51.79 percent believe it should be reformed.
Respondents rated the overall business climate in Virginia as compared to that of neighboring states, with 81.64 percent feeling "excellent" or "good" about the economic outlook relative to neighboring states, down from 85 percent from the 2014 Outlook Survey.
Regional differences are also evident. For example, 50 percent of respondents in southwest Virginia think that the economic recovery will take more than four more years, compared with 34.21 percent statewide, 31.71 percent in Central Virginia, 9.52 percent in Southeast Virginia, and 34.09 percent in Northern Virginia. CPAs from southwest Virginia were overall "pessimistic" or "somewhat pessimistic" about the state of the national economy vs. the "balanced" or "somewhat optimistic" result statewide. Eighty-four percent of Northern Virginia CPAs believed that partisanship at the federal and state level is preventing government from addressing urgent needs that have an impact on business.
CPAs render opinions based on sets of rules and objective criteria, providing clients, companies, government and the public with the information they need to make important decisions. As financial experts, they are trained to be objective and impartial — important qualities when deliberating the state of the economy and business.
Methodology
The survey was sent to 9,598 members of the VSCPA in August 2014, yielding a 3.2 percent response rate. 49 percent of the respondents work in public accounting, with the other half working in business and industry and other sectors. 45.32 percent represented businesses with more than 50 employees; 46 percent represented businesses with between two and 49 employees; and 7.9 percent represented sole proprietorships.