Dr. Ruth Coles Harris is the first recipient of the VSCPA's new Ruth Coles Harris Advancing Diversity & Inclusion Award.
By Chip Knighton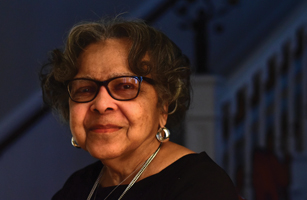 Very few VSCPA members have the longevity in the profession of Dr. Ruth Coles Harris. None can claim to have witnessed the same kind of history. 
Harris is the inaugural recipient of the VSCPA's new Ruth Coles Harris Advancing Diversity & Inclusion Award, and you couldn't dream up a more deserving candidate if you tried. Harris, 90, spent her formative years under the yoke of Jim Crow, then stood up to ensure her students had the opportunities she didn't. 
The actions that cemented Harris's place in Virginia CPA history took place in November 1962, when she became the first African-American woman to pass the CPA Exam in Virginia. At the time, she was in the position she held her entire career — accounting professor at Virginia Union University (VUU), a small, historically black university in Richmond. Fewer than 100 African-Americans held CPA licenses in the United States, and just  and one was licensed in the Commonwealth: the late Curtis Duke, a classmate of Harris's during her undergraduate years at Virginia State College (VSC, now Virginia State University) in Petersburg and again at New York University (NYU). 
Despite Duke's success, the odds were heavily stacked against African-Americans becoming CPAs in Virginia. When Harris sat for the Exam in 1962, the testing location, Virginia Beach, did not have any hotels that allowed African-Americans. Furthermore, no accounting firms in Virginia were hiring African-Americans at the time, seemingly preventing aspiring CPAs from fulfilling the experience requirement to receive a license. 
"That impacted me the rest of my time at Virginia Union," said one of those students, Wendy Lewis, CPA, who graduated from VUU in 1997 and is now a partner at KPMG in McLean. "Whenever I got discouraged or frustrated, I thought 'Dr. Harris could drive, take the Exam, drive back, go back and drive and take it again.' It's something that motivates me. When I talk to other students, I tell the story. It was my motivation as I was buckling down to get my CPA. 
"If she could do it in the time and era that she was in, being a black woman in a white male-dominated profession, if she could do this, of course I could do this. When she told that story, I think the switch flipped for a lot of us. We saw her very differently, not as this tough accounting professor, but as this role model of who we wanted to be." 
She came agonizingly close in May 1962, passing all but the Accounting Practice section, which was administered over two days. She took the section for the second time six months later and had to stay out of town in Norfolk after the first day of testing. Even the Virginia Board of Accountancy (VBOA) didn't have any solutions for her. 
"Fighting a civil rights battle was not my purpose that day, although I didn't mind fighting for civil rights. My purpose at that time was to pass that examination," Harris said. "…But of course, there was no place in Virginia Beach that I could stay, and I was told it never occurred to [the VBOA] that a black person would want to go there and sit for the examination." 
Despite those extra obstacles, Harris passed the final section, leaving only the experience requirement. That's where Duke entered the picture. Harris had known him at VSU and NYU, and like her, he was working as an accounting professor. In addition, he had a small accounting practice on the side. Harris asked him to allow her to work free so she could get the necessary experience. Duke told her he thought her teaching experience would suffice and urged her to apply for her license immediately. She did that, and the VBOA invited her for an interview.  
"When the interview ended, they said, 'Well, you can go out and get a cup of coffee and be back in about 30 minutes. Then we'll call you in and let you know what we decided,'" Harris recalled. "Well, I was not a coffee drinker. So I decided I would just sit in the chair outside the door and wait for them to arrive at a decision. 
"They called me back in at the end of half an hour and said, 'Have a seat.' I was waiting for what they were going to say next. I was handed a legal pad and told, 'Write your name on here like you want it to appear on your certificate.' And I'm thinking, 'Let me get out of here before they change their mind.'" 
At that moment, Harris had won her battle to become a CPA. But that was just one of the obstacles she faced in obtaining her education and becoming a professional. Growing up in Charlottesville during the Great Depression, she lived in a world completely separate from the city's white residents. The daughter of a dentist and a public school teacher, she attended separate schools her entire childhood before graduating from Jefferson Colored High School and leaving for what was then Virginia State College for Negroes at the age of 15. 
"There were many differences between our school and the all-white schools," she said. "But on the flip side of that, we had the best teachers anybody could ever have in our public schools. We didn't have a lot of resources. We were not allowed to use the public library. The books in our library were, for the most part, old books that had been sent from another school.  
"In the summertime, my sister and I used to read every novel they had in the library. They didn't have that many. So by the time the summer was over, we had read them all. But we had everything that we needed…I had a very happy childhood, notwithstanding the fact that I was aware of discrimination." 
She entered VSC with the idea of majoring in chemistry, her favorite high school subject, but realized on registration day that she didn't want to take any other science courses. Following her older sister's lead, she decided on business administration and knew she wanted to be an accountant after taking her first courses as a sophomore. 
"There was no subject I'd ever taken that I could stay up all night studying and not mind except accounting," she said. "In those days, you did practice sets manually, and if it was off by one penny, some people would just say 'I couldn't find it.' But I just couldn't go to bed until I found every error. It had to be perfect." 
VSC offered just two advanced accounting courses, and few students took them because there weren't accounting job opportunities for African-Americans in Virginia. Harris took both as electives anyway because one of her professors, George Singleton, encouraged her to pursue her dream and be prepared so she would be ready for any opportunities that arose. But the only job offer she got upon graduating in 1948 as valedictorian was a bookkeeping job for a meat-packing plant in Ohio. She chose graduate school instead. 
"Who wanted to be a bookkeeper? I didn't want to be that," she said. "I wanted to be an accountant." 
In going all in on accounting, Ruth had followed in the footsteps of her sister, Bernadine Coles Gines, who would become the first African-American female CPA in New York. Bernadine had fallen in love with New York when attending graduate school at NYU.  
She was in New York, of course, because she wasn't allowed to enroll in graduate school at any Virginia university. Ruth followed in her footsteps, as well as those of Singleton, who was one of the first five African-Americans to graduate from NYU. Both sisters took advantage of the Dovell Act, a Virginia law that helped enshrine "separate but equal" education by paying qualified black applicants for tuition and travel expenses to out-of-state universities.  
Ruth didn't share her sister's love for New York and wondered what she was going to do in her home state upon graduation. As she was nearing her graduation from NYU, she received a telegram from VUU's president, Dr. John Malcus Ellison, who was going to be in New York and wanted to discuss a faculty position with her. She took the interview despite no previous interest in teaching. 
"I had told one of my teachers in undergraduate school that I would starve to death before I taught a day," she said. "She didn't hesitate to remind me of that. But I was teaching about teaching in secondary school, and I was thinking, 'That's not what I want to do.'" 
But teaching was what she did, and it turned into a lifelong pursuit. Harris joined the VUU faculty in 1949 in the university's small commerce department. When the university established the Sydney Lewis School of Business, she served as its first director, overseeing curriculum development and helping grow enrollment to more than 400 students. 
Even that doesn't begin to cover the impact she made on her students. She taught the introductory principles of accounting course and had a reputation as a demanding teacher who got the best from all her students. That included Lewis, who started out in her class mindful of her uncompromising reputation and ended up counting her as a mentor to this day. 
"I was so afraid of all the stories that I had heard," said Lewis, who added that Harris addressed all students by their last names until they graduated to reinforce a sense of professionalism. "I remember being really worried when I found out I was going to have her as a professor, and it ended up being the best thing that could have happened for me." 
Harris took a similar approach to the accounting club at VUU, which she sponsored. She required professional dress at every meeting to help prepare her students for the corporate world. She had a keen sense of just when to push students, like when she encouraged Lewis to apply for an extremely competitive internship at Nestle USA.  
Lewis thought she had no chance at getting one of the 10 spots, but applied anyway at Harris's urging. The decision has reverberated throughout her career. 
"The auditor at Nestle was from my current firm," Lewis said. "That's how I was exposed to KPMG, from talking to those auditors, and that was one way I got this job here. If Dr. Harris hadn't pushed me, I don't know if I would be here.  
"Big firms didn't come to Virginia Union to recruit. We had to mail in our resumes to get those opportunities. She forced us to always push ourselves." 
Harris retired in 1997 and was named a Distinguished Professor Emerita, but an even greater honor was in store. The following year, VUU conferred upon her an honorary degree. Last year, VUU launched the Ruth Coles Harris Leadership Institute, which offers a lecture series on business and community issues and a certificate program for professionals in entrepreneurship, organizational change and leadership, nonprofit and church administration, and project management. 
Midway through her career, Harris earned her doctorate in education from the College of William & Mary, one of the schools that wouldn't have even looked at her as an undergraduate. She downplays the significance of that breakthrough, but later in her career, she took an adult class at the University of Virginia (U.Va.), just a few blocks from where she grew up, for more symbolic reasons. 
"I just went up there and took a course just because I could. It wasn't even a class that was anything related to accounting. It was just, 'What do you offer of interest to me at a time that's convenient for me?'" 
Official racial barriers started to crumble after the passage of the Civil Rights Act in 1964. Harris's children were allowed to attend the schools that were closed to her when she was growing up, and she was allowed to eat in restaurants that wouldn't let her in the door in years past. Changing hearts and minds was a different matter. 
"When some racial barriers were breaking down in public facilities, I knew that I could go to any restaurant I wanted to," Harris said. "There was a Hot Shoppe cafeteria across from Thalhimer's on Grace Street. My husband took me, my mother, my aunt and our young son there one Mother's Day. 
"We were the only blacks there at the time we arrived. Everybody else who came in sat all the way to the other end, and they kind of stared at us like, 'What are you doing in here?' Nobody sat anywhere near us. It was like they thought brown would rub off on them." 
It was a bittersweet moment in a life filled with them. Harris gone from separate-but-equal beginnings to accomplishments never before achieved by African-Americans in Virginia, and the people in the Hot Shoppe couldn't see — or didn't want to see — past her skin color.  
So it is with the Ruth Coles Harris Advancing Diversity & Inclusion award. No one can change what Ruth Coles Harris endured or give back the opportunities she was denied. Many of the CPAs who wouldn't give her a look were undoubtedly VSCPA members, some of them leaders in the Society. And there were hundreds, thousands, of promising students just like her whose accounting careers never got off the ground because of the color of their skin. 
Instead, we hope this award is a data point in Dr. Martin Luther King Jr.'s famous arc of the moral universe, which "is long, but it bends toward justice." It's a small gesture from an imperfect profession in the interest of acknowledging past injustices. Let us — as an organization, a profession and a society — never lose sight of the way Ruth Coles Harris was treated and how she fought to make things better for her students and their contemporaries. And let us continue to push, in our own, small way, toward true equality.