Editor's note: This is the first in a series of articles detailing the mentor-mentee relationship between two VSCPA members, facilitated by the VSCPA's MentorMatch program.
People seek mentoring relationships for any number of reasons, whether it's to tap into mentor expertise in a certain area, gain new skills that the mentor is known for or get insight into possible career paths. The latter was the case for VSCPA member Nidia Cruz, CPA, as she looked for help through the Society's new MentorMatch program.
Cruz couldn't have picked a better mentor for her specific need. She is currently working with longtime VSCPA member Beth Berk, CPA, CGMA, an independent recruiter who has been focusing on placing CPAs in the Washington/Baltimore area for 11 years.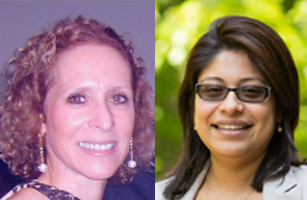 "Since I passed the CPA Exam, I kind of felt lost," Cruz said. "I didn't take the typical CPA route from college to a public accounting firm. I was a veteran, then went to school, and went into business. I didn't know if I wanted to go the public accounting route. I wanted to get her input on questions I had."
Cruz first became aware of Berk through some of her articles published by the American Institute of CPAs (AICPA), then reached out once she saw that Berk had registered as a mentor. What she didn't know at the time was that her own career questions echoed similar issues from Berk's past.
"Earlier in my career, I chose the wrong type of jobs and environments for myself," Berk said. "Part of the reason I went into recruiting was to help give people tools or food for thought to help them make better career decisions."
Berk's job made her a natural fit for MentorMatch, as she deals with young CPAs looking for new jobs on a daily basis. As she puts it, "I'm constantly giving out guidance or food for thought when I interview people, whether I place them or not."
And Cruz was ready to listen after taking a non-traditional path to her current position at Anthem. A Brooklyn native, she served in the U.S. Navy from 2002–2006 before enrolling at Saint Leo University, which has traditionally served a large amount of active-duty military members and has campuses on many military bases.
Cruz was thrilled when she passed the CPA Exam, but her background left her short on professors and advisors that many young CPAs have.
"I didn't have anyone to ask questions to until my first job, and there are some things you can't ask an employer," she said.
Berk said: "People get an MBA, this certification, that certification, and they go into the marketplace and organizations don't know what to do with them. They took all this time to get educated, certified, whatever, and they may not have the role models to guide them."
Berk and Cruz had had one phone call at the time this article was published. One takeaway that has come from the relationship is some discussion of Cruz's interest in education. Cruz came away from that conversation with the contact information of several professors Berk knows, and she'll be supplementing her mentorship experience by getting input from them and other professionals.
Ideally, Cruz can come away from the mentorship with a better idea of what her ideal career path looks like.
"I was having a conversation with her about feeling lost about whether to go the public accounting route," Cruz said. "She was telling me, 'You can't compare yourself to other people. Success means different things to different people.' Hearing it out loud made me reflect on what it means to other people, and her knowing so many people and connecting people, she's seen that. I do feel like that's true. I can't compare myself to anyone else and find what makes me happy."
Berk added: "I see so many people in their 40s and 50s and 60s who never feel satisfied in what they achieve in their career. You spend so many hours working to never be satisfied? Life is too short."
If you're interested in learning more about MentorMatch or participating in the program, visit connect.vscpa.com/MentorMatch or contact VSCPA Member Engagement Manager Laura Cobb.