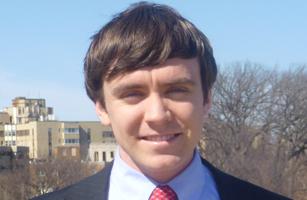 VSCPA member Will McGauran is one of 39 winners of the American Institute of CPAs' (AICPA) 2012 Elijah Watt Sells Award, given to outstanding performers on the CPA Exam.
McGauran, a suburban Chicago native and a 2011 attendee of the VSCPA Leaders' Institute, is employed with Deloitte Financial Advisory Services in Arlington. He is a 2012 graduate of American University's (AU) Kogod School of Business.
He originally chose AU with an eye on a career in politics, but switched to business as a sophomore. He took a class on accounting principles and quickly realized that he had a natural talent for the subject.
"I owe a lot to Prof. Sue Marcum, who taught the 'Principles of Financial Accounting' class that made me want to switch my major in the first place," he said. "If it weren't for her, I may never have even taken the CPA Exam in the first place."
McGauran took the CPA Exam in Virginia and plans to obtain a Virginia license upon finishing the experience requirement. As an E.W. Sells Award winner, he recorded a cumulative average score above 95.50 across all four sections of the exam, passing all four sections on their first attempt, and completed testing during the 2012 calendar year.