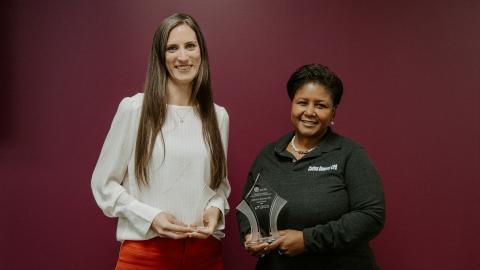 The second annual VSCPA Women to Watch were recognized Dec. 8, 2021, at the VSCPA Women's Leadership Forum.
Emerging Leader: Erin Burlew, CPA
Assurance Manager, DHG, Richmond (pictured at left, above)
"As a CPA and an auditor, my goal is to serve clients with excellence, respect and kindness. As a colleague, I aim to share the knowledge I have received with others and to encourage others to identify and accomplish their career goals through formal and informal coaching programs at DHG."
Seven years into her accounting career, Erin believes the profession succeeds when CPAs give back to the community both in and out of the workplace. At DHG, she has mentored six colleagues as a performance coach and assisted them with setting career goals and developing action plans, as well as informally mentoring others and teaching CPE and other courses. She's also member and co-treasurer of the Richmond chapter of DHG's Emerging Leader Network and former member of the DHG IMPACT committee.
Erin's mentoring extends beyond the office. At Third Church, she's led a small group of students for five years since they began in seventh grade, and she becomes a church trustee in 2022. She's also an alumni ambassador at her alma mater, Grove City College, and involved in the Grove City Mentor Connect program. As a former member of the Sports Backers Presidents Council, she was on the Scholar Athlete committee, and she has promoted financial literacy through Junior Achievement.
"Erin is a superstar in our local office and known throughout the firm," said LaKrisha Watson, CPA, DHG tax services manager. "She helped lead big firm initiatives in the last few years and I'm excited for the great things she will do in the future!"
Experienced Leader: Catina Downey, CPA
Principal, Catina Downey, CPA, LLC, Richmond (pictured at right, above)
"It is difficult for me to say I 'deserve' to be honored. I am just grateful to be able to represent the profession in such a way that someone, somewhere, felt I deserved to be recognized."
Fifteen years into owning her own CPA practice, U.S. Army veteran Catina has six staff members and empowers her workforce to communicate well with clients and make their own decisions. She strongly believes in hiring the right talent, providing the right tools, and giving clear direction. Her professional practice dovetails with one of her passions — providing tax and small business guidance to underserved businesses.
In fall 2020, upon seeing some businesses unable to obtain Paycheck Protection Program loans because of inadequate recordkeeping, Catina founded the Varina Center for Tax and Small Business Education to provide information and guidance to businesses that do not have the resources available to hire a CPA. The Varina Center also partners with the IRS as a Volunteer Income Tax Assistance and Tax Counseling for the Elderly (VITA/TCE) site to aid in free tax prep for the elderly.
Catina is also passionate about promoting the endless opportunities in an accounting career. She's volunteered several times with the VSCPA to promote accounting careers to students and was a highlighted CPA in our Path to CPA video series. The exciting opportunities that accounting offers even inspired her to create The Accountant Bee, a children's activity book, available for sale on Amazon. Her volunteering extends to leadership positions with the KLM Scholarship Foundation and the Virginia State University Military Alumni Association.
"Catina exemplifies the qualities of an experienced CPA leader, such as community service, extraordinary leadership, contributions to the profession, unique leadership attributes, and involvement with her alma mater," said Jelena Hill, CPA, a staff accountant at Catina's firm.