Let's celebrate! 
Every year we spend a week shouting it from the rooftops: It's Virginia CPA Week! Officially proclaimed by Gov. Ralph Northam at the request of the VSCPA, the week spotlights the value CPAs bring to the Commonwealth and its citizens, businesses and institutions. Virginia CPAs and their employers are invited to join in! See below for all they ways you can participate and showcase how Virginia will always #CountOnCPAs.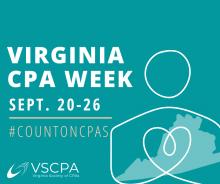 Use CPA Week branded graphics.
We've created graphics you can post to social media accounts including the #CountOnCPAs hashtag, use on your websites, or include in emails to clients! Click each one below to download.
Participate on social media.
Why do Virginians #CountOnCPAs? Tell us! Post videos with your advice, tidbits about what you do, or celebrate your staff. Make sure you use the #CountOnCPAs hashtag and also tag us so we can reshare! Our tags are: Facebook (@VSCPA), LinkedIn (@VSCPA), Twitter (@VSCPANews) and Instagram (@VSCPA).
If you would like us to post, you can also send use your pictures and videos! Email them to the VSCPA Communications Team at [email protected].
Promote accounting careers to students.
Join us as we spread the word about accounting careers to children around the state! The VSCPA purchased 1,000 copies of "When I Grow Up I Want To Be … An Accountant" by Dr. Adrian L. Mayse, CPA, the department chair of accounting at Howard University, to donate to schools, libraries and community organizations across the Commonwealth. We're encouraging CPAs to do the same if you desire!
You can also volunteer for our CPAs in the Classroom program to help educate middle and high school students about different career paths in accounting.
If you donate books, let us know! Use the #CPAsGiveBack hashtag on social media. Have questions about donating the book, CPAs in the Classroom or other student programs? Email Molly Wash.
Recognize your CPAs.
What a GREAT time to tell your CPAs how awesome they are. Call out CPAs during staff meetings, buy your teams lunch, give them a small gift or gift card, or even just write them a note. Looking for celebratory ideas? Our Busy Season Ideas page is full of ways to feed your teams, have fun virtually, connect and much more. Put your recognition on social media, use #CountOnCPAs and tag us!
Take part in a service activity.
We all know #CPAsGiveBack, but it's a great week to take part in a community service project or activity as a team-building activity. Don't forget to let us know what you do and send pictures to [email protected]! You can use the #CPAsGiveBack and/or #CountOnCPAs hashtags.